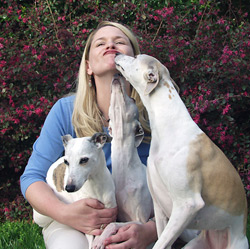 This is a special collection for AWC Virtual Vendor Show
FREE US shipping on all items with code: AWC2020
CUSTOM ITEMS: Please order through this website by clicking on the item and customizing through the checkout process.
TEES, MUGS, BLANKETS: Please order through AWC Virtual Vendor group.
I have some t-shirts, apparel, mugs and blankets on hand, contact me through the AWC Virtual Vendor group. I will combine shipping if you order from the FB group and from this website.
I've had whippets for over 25 years and as a graphic designer I love using my dog as inspiration for designs. I offer unique dog inspired t-shirts, custom dog breed note cards & labels (choose any dog breed), fun whippet themed Christmas cards, and a very special book for whippet lovers written by my husband. All items are original and designed by me.
Interesting in other dog breed designs? Check out more designs in my shop.
Questions: Email me or Follow me on FB