About Our Custom Breed Dog Stationery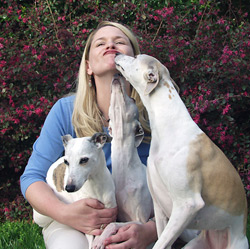 For over twenty years I've been a graphic designer and web developer — but I've been a dog lover all of my life!
I began creating customized stationery, thank you notes and Christmas card for friends featuring their dog breed silhouette. We were always pleased to hear the positive feedback from our family and friends who often said to us: "we love your dog stationery, you should sell these!" So, I started Bowsie Wowsie in 2007.
I hope you like our custom dog stationery, dog note cards, custom gift tags and other products that I've created. And I hope you like our whippets too. We enjoy sharing the love we have of our dogs with others.
Need a special request for custom and unique dog breed stationery? 
I'd love to create custom stationery for you, simply email me your custom request.
Is your dog silhouette not represented?
We're always on the lookout for new dog breeds to add to our selection, so if your breed isn't represented, let us know, we'll be happy to add it with your order. Simply choose your custom stationery, then choose "Custom" as the breed option when checking out and we'll create your custom dog silhouette for FREE with your order. Then email me your custom request and we'll even send you a proof.
Need custom stationery item that you don't see in or shop?
I can design any custom stationery that you'd like.
Ready to Order Your Custom Dog Stationery?
Choose your item
Select your quantity
Select your dog breed, type style and color choice (choose custom if your breed is not listed
Personalize with your message such as name, address or thank you (your message will be printed as typed)
Click "Add to Cart"
Check out using Paypal. You don't need a Paypal account, simply select "Pay with Credit Card" option at checkout.
Shipping will be added at Checkout: $6 Flat Rate Continental U.S.; $16 Alaska, Hawaii and International.
It's that easy! But email me know if you need help.